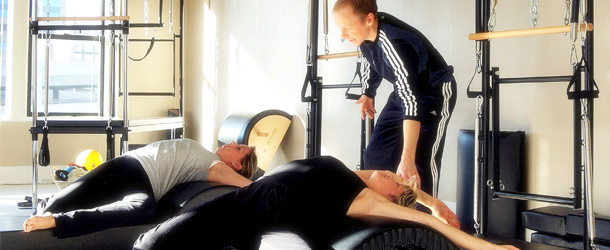 Frequently Asked Questions
How do I get started?
Contact us!  Give us a call at 605-339-0655 or email us at [email protected] to schedule a session.  We will return your call in between clients.

What do you offer?
We offer Pilates training in a fully-equipped studio. We also teach Gyrotonic ® training and Kettlebell training.

What are the benefits?
Overall improved health and fitness as a result of increases in strength, flexibility, balance, coordination, and body awareness.

When will I see results?
This depends on the person, but generally people start noticing a difference within ten sessions.

How do I know if I should do privates or groups?
Privates are ideal because everything is tailored to your specific needs.  Groups may fit budgets better and the camaraderie of a group is fun.

Do you find group members for us to work with?
We do our best.  It usually takes some work to find a time that works for everyone's schedule, but we eventually do, so be patient.   Some people start a group with friends.  The more experienced you become, the easier it is to switch  into groups of different levels.

How long are the sessions?
All sessions are 55 minutes.

Do men do this?
Yes.  Joseph Pilates was a man and developed his system of exercises for everyone.  Just Google "Pilates and men" and  find the long list of male professional athletes who do Pilates.

How often should I do this?
Ideally, three times a week.  Most of our clients come twice a week and achieve great things.  Once  a week a person can still benefit because of the learning that is involved.  You can and should use Pilates principles during your activities of daily living as well as other exercise and athletic endeavors.

What is STOTT PILATES * ?
http://www.stottpilates.com/faq.html

Is this all I need to get in shape?
Pilates will increase your strength and flexibility and change your body, but you should still do some kind of aerobic exercise for cardiovascular health.

What do I wear?
Wear comfortable work out clothes that are  formfitting as you are comfortable in.  No shoes—bare feet or socks.

Where are you located?
We are located at the corner of 24th Street and Western Avenue in the Park Ridge Galleria.  Take north door entrance and go upstairs Suite B.
Is Pilates and Gyrotonic® for everyone?
Pilates and Gyrotonic® are for anyone who wants to improve their quality of life.  The exercises are challenging enough for the athletic competitor and excellent for those working around an injury.

What are your qualifications?
The Pilates Center of South Dakota, LLC is owned and operated by Corey Carlson.  Corey holds a degree in Health Promotion from South Dakota State University and Master's of Science degree in Exercise Science — Human Performance from the University of Wisconsin, La Crosse.  He is a fully certified Stott Pilates * Instructor, a Certified Strength and Conditioning Specialist through The National Strength and Conditioning Association,  a Level 1 Gyrotonic® Instructor, Certified Pilates Teacher through the Pilates Method Alliance, and a Level 1 Kettlebell instructor through Kettlebell Concepts.  Corey worked as a personal trainer and Pilates instructor at The Stott Pilates Certification Center in Scottsdale, Arizona and at The Pilates Studio in Des Moines, IA before opening his studio in Sioux Falls in 2003.  More about our Instructors »
* Trademark or registered trademark of Merrithew Corporation, used under license.